In-Home Sleep Test
In-home Sleep Test provides a quick, convenient and affordable way to have Sleep Apnoea confirmed. All studies are independently analysed by experienced NHS-qualified sleep professionals, and use the WatchPAT recording device for unrivalled accuracy.
£195.00
Detailed Professional Report
Yes
How it works
If you suspect that you have Obstructive Sleep Apnoea, then an in-home Sleep Test provides a quick, convenient and affordable way to have Sleep Apnoea confirmed.
The Detailed In-Home Sleep Test use the revolutionary WatchPAT diagnostic. This device provides accuracy comparable to PSG (used in sleep laboratories for in-depth sleep analysis) but can be used easily and comfortably in the comfort of your own bed.
The WatchPat device monitors your blood oxygen levels, heart rate, body position, body movements, snoring intensity, and crucially your Peripheral Arterial Tone – a key physiological signal that can indicate respiratory disturbances during sleep.
Despite being simple to use and comfortable to wear, the additional information it records gives the sleep technician a comprehensive picture of your sleep, allowing them to return an accurate verdict.
After you order your in-home sleep test, the typical timeline is as follows:
Day 1 – The test is dispatched to you. This includes clear, concise instructions for the simple device, and a detailed medical questionnaire.
Day 2 – You receive the package, complete the questionnaire and wear the recording device that night.
Day 3 – The questionnaire and device are returned to Intus Healthcare with the pre-paid envelope.
Day 4 – The data and questionnaire are sent to an independent sleep technician for assessment. All of our sleep technicians are NHS-trained with a minimum of 5 years' experience of assessing sleep studies.
Day 11-18 – The results are returned to Intus, and your results letter created. This letter will contain at least five pages of information to detail your result, what that means and the next steps from there. These are posted to you, along with a copy of the data from the recording.
The following day – Your results are delivered. Within 3 weeks of ordering the test, you have OSA confirmed (or not, if that does not appear to be the cause of your sleep problems).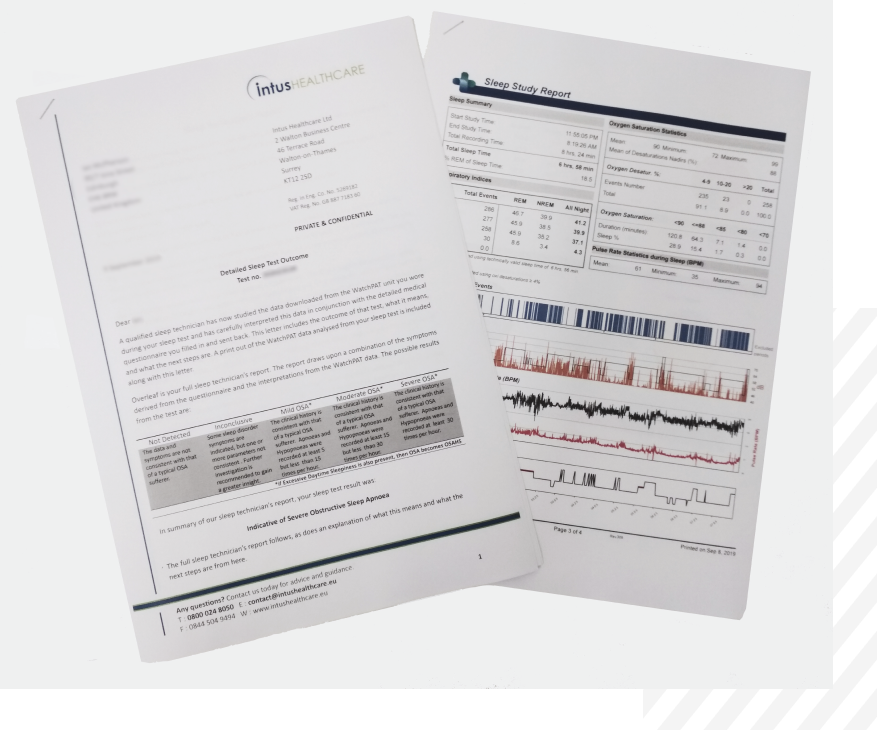 What happens after I receive my results?
77% of tests confirm Sleep Apnoea. In this case, we will make recommendations of suitable treatment options based on the data recorded, the medical history you provide and the assessment of the sleep professional that analyses your test. Intus provide all of the clinically-proven treatment options, including CPAP therapy, positional therapy, mandibular advancement devices and more, and will provide detailed information and advice on any and all suitable treatment methods for you.
It takes on average seven years from developing clear symptoms of Sleep Apnoea, to having it confirmed. You could be just days away from that point – and within 24 hours, you could be receiving treatment and tackling those symptoms. Treating Sleep Apnoea can increase your life expectency by as much as 8 years, so the sooner treatment is started the better for your long-term health – as well as the immediate benefits of reduced snoring and more refreshing sleep.
You can also discuss the result with your GP, as you may wish to continue your path towards treating Sleep Apnoea through the NHS. With a test that confirms you have the condition, you are likely to find a referral to an NHS sleep clinic is issued more quickly than if you were describing symptoms alone. It is likely that the NHS clinic will still want to conduct their own test.
For the 23% that do not get a positive confirmation, you gain some clarity on your current situation as you can effectively "rule out" Sleep Apnoea. It may not be the the answer desired, but it does provide AN answer – which is that your chances of having OSA are incredibly slim, and so you can eliminate that from the list of potential causes of your symptoms. You can then start looking at other potential causes, which is a positive step towards finding a resolution.
We pride ourselves on using the best equipment available, and having all tests analysed by qualified, experienced and independent sleep specialists, to ensure honest and accurate results. Whatever your result, we will be on hand to provide support and guidance for your next step.